The Great Blue Hole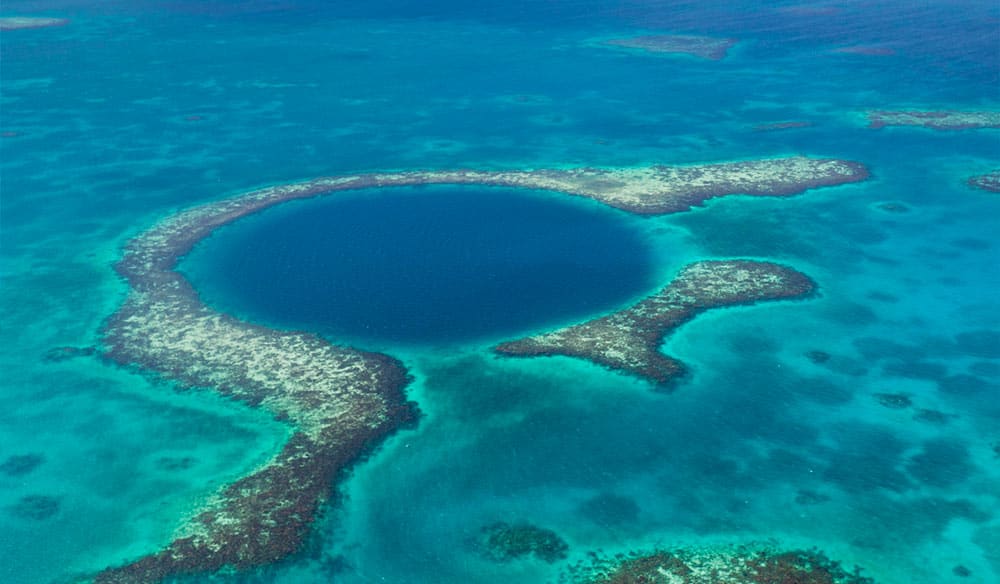 To start off this list, we had to go with one of the best-known dive sites in the world. This is of course the Great Blue Hole of Belize. Your diving experience in Belize wouldn't be complete without diving at this underwater spectacle. 
The Great Blue Hole is a giant marine sinkhole near Lighthouse Reef around 70km (3 hours by boat) from the mainland. It stretches 1030 ft / 314m across and descends to a depth of 442 ft / 135m.
The most famous marine sinkhole in the world
Jacques Cousteau popularized this phenomenal destination back in 1971
Located on one of the four true atolls outside the Indo-Pacific Region
What you will see:
Belize's world-famous sinkhole is circular with steep-walled depressions showcasing a dramatic contrast of dark blue deep waters and the turquoise of the shallow reefs around. It is common to see blacktip reef sharks circling the reefs around the shallow water around the sinkhole hunting for reef fish. Due to minimal water circulation, there is no current making it possible to see rare bacteria and particles that you don't normally see on regular dives.
This means there is not as much fish as you would expect to see on coral reefs. However, divers the world over have likened the experience as the closest thing to being in space. As you descend you will notice gigantic awe-inspiring stalactites. Diving the great blue hole is a fascinating underwater topography dive and a life-enhancing experience in its own right. No diver's bucket list is complete without this dive.
Half Moon Caye Wall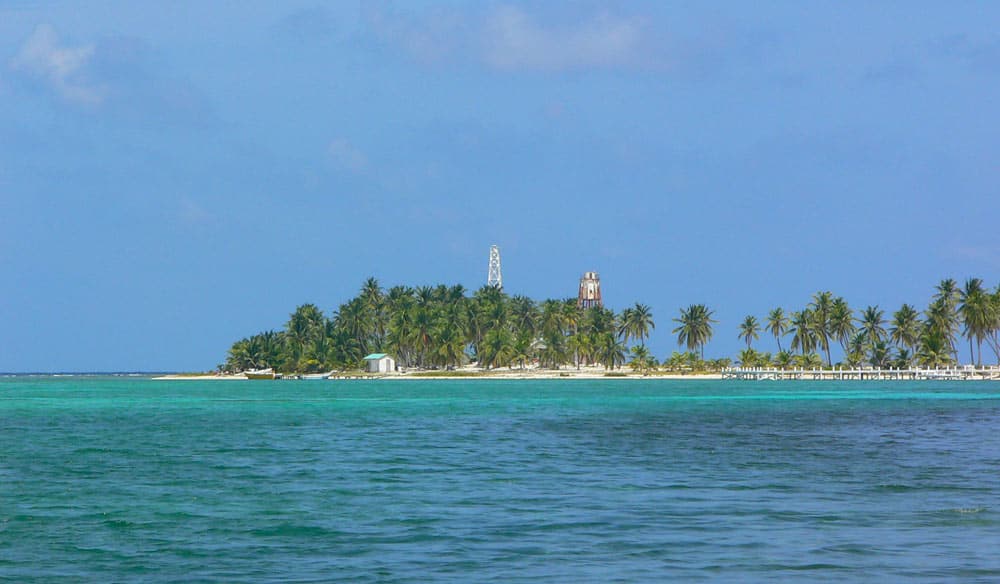 Typically, this is the dive site most operators head over to after taking divers for their first dive at the Great Blue Hole. Half Moon Caye is one of the most beautiful islands you will ever visit. It's pearly white sand and long palm trees offer a perfect sanctuary for a short surface interval after the Blue Hole dive. As above, so below, the marine environment surrounding this island features some of the most beautiful marine fauna and flora in the world. The visibility is easily over 20 meters, with clear days providing ample sunlight and color to a depth of 30m.
Half Moon Caye is a bird sanctuary
Great Place for a surface interval and mini-hike to explore the island
Fantastically vibrant coral
A varied marine life
What you will see:
You will normally start your dive with a descent to 42 ft / 13m, where a colorful array of angelfish, butterfly fish and wrasse will greet you. There, the reef wall drops down to 98 ft/ 30m where you will begin to see hidden tunnels filled with yellow and bright blue sponges, impressive lilac sea fans, barrel sponges, hard coral coverages, and reef fish hiding among the reef structures. It's also common to be followed by nosy goliath groupers and garden eels poking their heads out from the sandy bottom. It is important to note that black tip reef sharks patrol the reef walls and that hawksbill turtles use the reef to source food and rest.
Glover's Atoll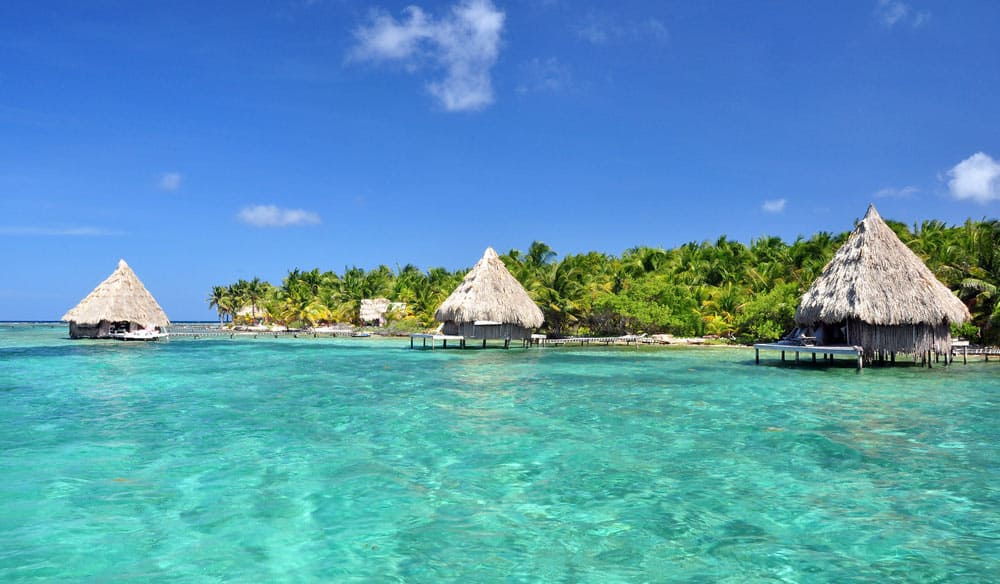 Glover's Atoll is the center of the Glover's Reef Marine Reserve that was declared a World Heritage Site in 1993. The relative isolation of this atoll and the clarity of the surrounding oceanic waters means coral has managed to establish itself at depths reaching down to 300 ft / 91m. Glover's atoll has over 700 patch reefs surrounding the central lagoons with six privately owned cayes, a Wildlife Conservation Society research station, and accommodation options on others. The water visibility remains clear year-round, due to the minimum sedimentation or pollution coming from the coast.
Isolated Atoll boasting fantastic visibility
Incredible range of marine life
Boat transfers to a beautifully isolated resort on the caye are available
What you will see:
Manta Rays are one of the highlights for divers on any dive at Glover's Atoll. These mega giants can have a wingspan of almost 30ft / 9m and glide effortlessly through the blue water. Eagle rays, atlantic bottlenose dolphins, green sea turtles, and blacktip reef sharks are other common megafauna you will be able to spot on these dives. When diving one of the many reefs, you will observe on your dives fantastically colored tube sponges, massive gorgonian fans, sea fans, staghorn coral, soft corals, all surrounded by healthy populations of reef fish. Many of the reefs have shallow sections which snorkelers enjoy, snapping photos of the abundant parrot fish, octopus, or wrasse.
Hol Chan Marine Reserve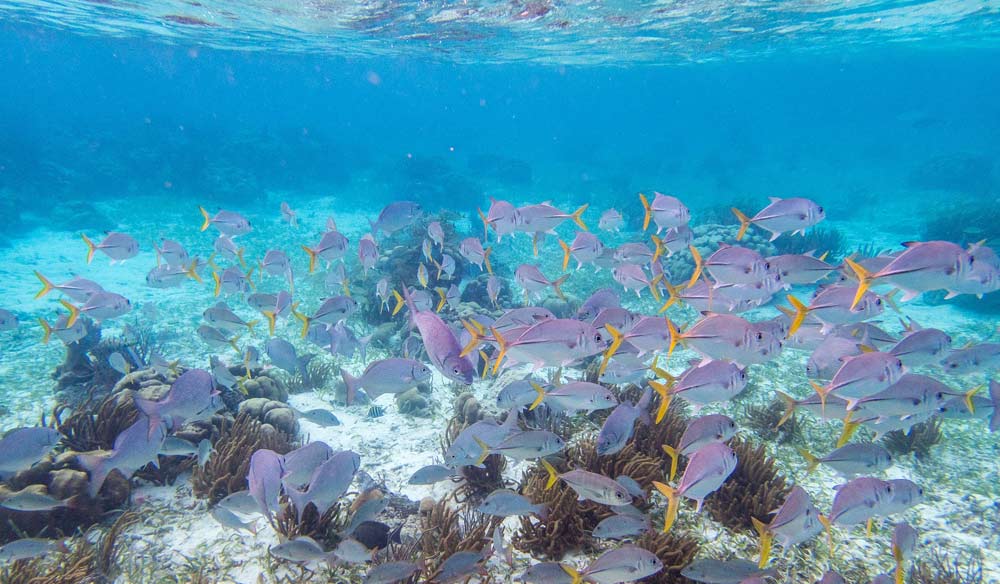 Just off the coast of Caye Caulker and Ambergris Caye is the Hol Chan Marine Reserve. Hol Chan is Mayan for little channel and is the passage to the outer edge of the Belize Barrier Reef. It's where all boats need to pass to avoid hitting coral. Since its designation in 1987, the Hol Chan Marine Reserve fisheries department enforces strict guidelines and rules for boaters to ensure the protection of this beautiful area. Boats are not allowed to anchor, visitors must not touch coral, and no fishing is permitted in this area. The protected area encompasses almost 5 square miles and is home to a thriving marine ecosystem.
Strong currents are prevalent
Relatively shallow dives, that are snorkel friendly
Protected Marine Reserve with spectacular marine life
What you will see:
The consistent protection of this area means divers can expect to see long branches of thriving elkhorn coral as well as intricate brain coral. Among the colorful coral reefs, you will see hundreds of bar jacks schooling, reef fish hiding in the coral, massive grouper swimming around, snapper, as well as barracuda. Legend has it that there are even a few Nassau groupers swimming around. During the wet season, manatees are commonly sighted swimming in the shallow waters around the reserve. 
Shark Ray Alley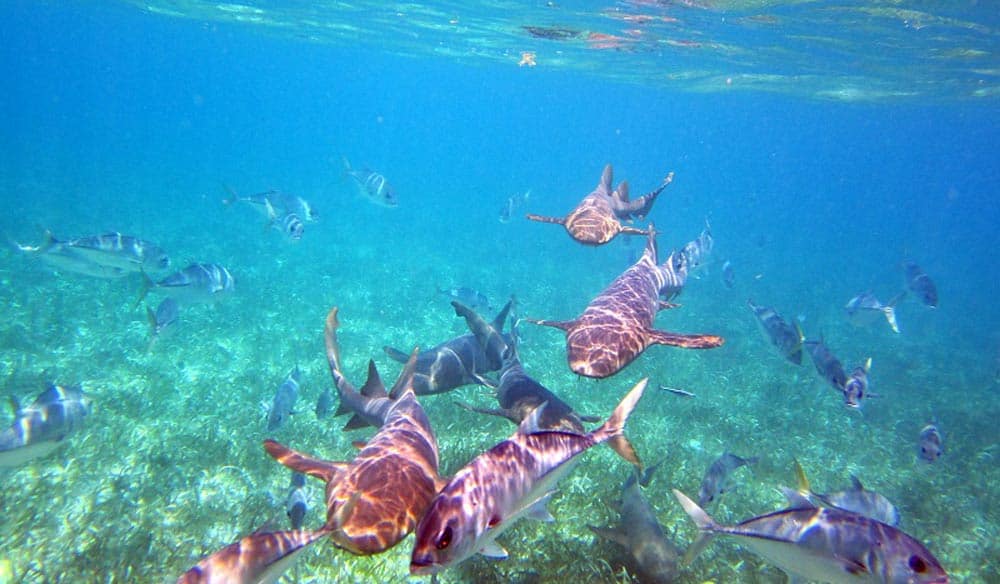 If you want a bit of a break from diving or want to bring your nondiving friends and family to an experience they will never forget, then head over to Shark Ray Alley. This is a shallow sand plateau on the inside wall of the Belize Barrier Reef where fishermen would stop to clean their catches. The discarded fish guts attracted scores of nurse sharks and fevers of stingrays. Now, dive and snorkel guides play the part of fishermen and drop fish scraps to lure a flurry of nurse sharks and stingrays that are so used to tourists they are borderline domesticated.
Big groups of nurse sharks and stingrays
Dive guides attract animals through chumming
Shallow and snorkel friendly
A popular destination for swimming with sharks
What you will see:
This popular hot spot for friendly nurse sharks and plenty of stingrays will have you swimming among the teeming fish in shallow, warm, and clear water. As soon as the sharks and rays hear boats approaching, they gather at the shallow sandy patch. The animals do approach quite close, so some people might find this interaction with sharks a little unnerving. That said, nurse sharks are colloquially known as the puppies of the ocean and are as harmless as their playful counterparts the stingrays.
Turneffe Atoll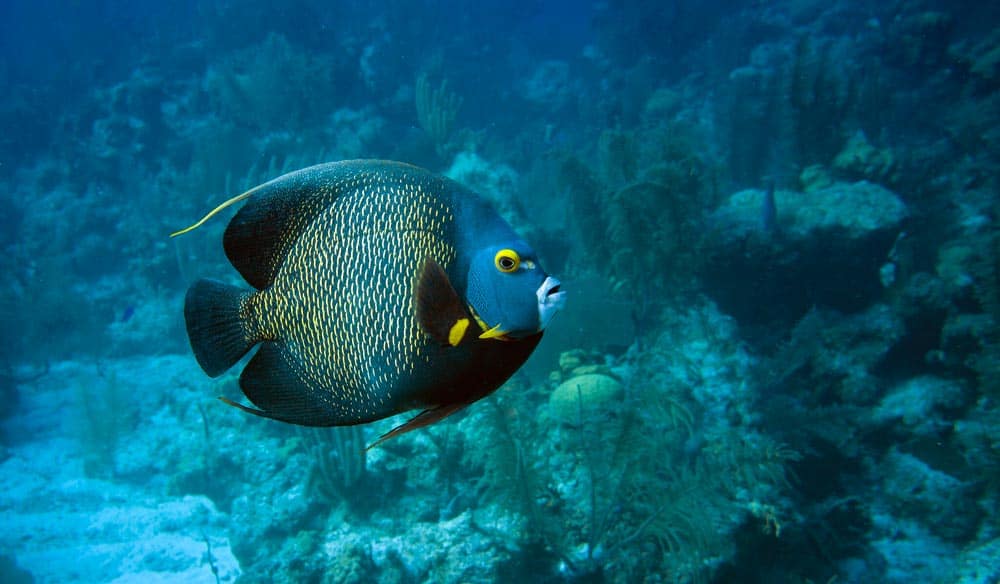 Three of the four true Atolls in the world are found in the waters off Belize and provide divers with spectacular diving opportunities. An Atoll is a circular version of a barrier reef, with a coral rim that encircles a lagoon fully or partially. They are born from volcanic activity and attract a massive range of marine species. In Belize, Turneffe, Lighthouse, and Glovers are the meccas of diving as far as Atoll's go and offer unique marine experiences. One of the biggest benefits to these atolls is that the depths surrounding the reef typically drop almost to 3000 ft / 914 m . These big depths draw a massive population off megafauna framed by stunning vertical walls. Turneffe is Belize's newest protected marine area stretching 30 miles in length, and 10 miles in width with every part a prime destination for diving and snorkeling. You can reach it by boat and stay on the atoll itself for maximum enjoyment.
Unique marine environment provided by the Atoll
Spectacular wall-dives which attract deepsea megafauna
Range of coral canyons and swim-throughs covered in pristine coral gardens
What you will see:
The exquisite range of corals growing among the unique topography of crevasses, swim-throughs, and arches provides hours exploring for divers. The size of this Atoll means that even if you travel and stay on the atoll, every day of diving will show you a new dive site with spectacular creatures. Sea turtles, reef sharks, reef fish, and schools of Caribbean marine life are all commonly seen on dives around Turneffe atoll.
South Water Caye Marine Reserve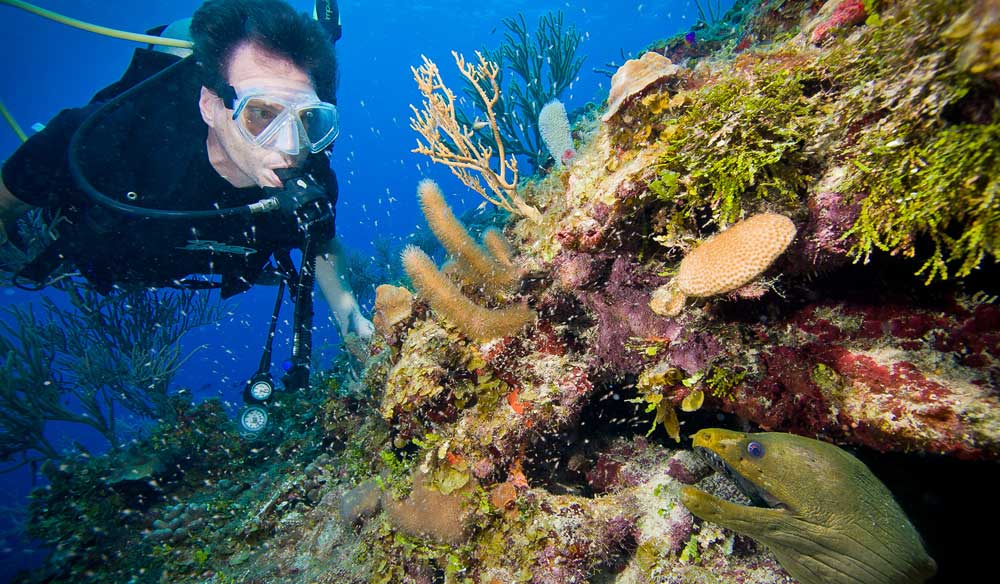 One of the largest marine reserves in Belize is located near the southern border with Guatemala. The South Water Caye Marine Reserve is just 10 miles / 16km off the coast of Belize and covers 7 miles / 12km of barrier reef. There are plenty of spectacular wall dives boasting incredible marine biodiversity. It gained protected status in 1996, covering 47,700 hectares of coastal and mangrove ecosystems. This entire area now has thousands of species, some of which are endemic to this part of the world.
7 mile stretch of marine reserve with beautiful reefs and marine animals
Pelagic (open ocean) fish are found in great numbers on the outer walls
Swimming with Whale Sharks during the right time of year
What you will see:
Keep a lookout for nudibranchs! These psychedelic gastropods are among the unique fauna here. The range of spectacular wall dives will provide divers with the opportunity to test their photography skills on the many macro creatures hiding in the colorful coral.  Divers will also spot reef and silky sharks, schools of tuna, barracuda, and stingrays. The deeper areas attract different fish allowing advanced divers the chance to witness the full range of life this spot offers.
Gladden Spit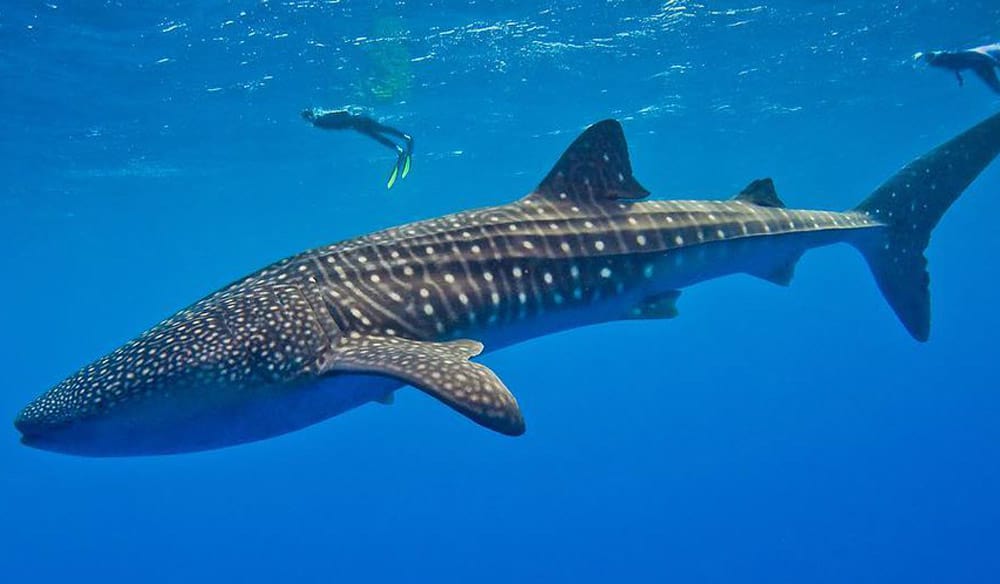 Whale sharks are one of the most celebrated attractions of scuba diving in Belize. The Gladden Spit almost guarantees swimming alongside these gentle giants are the right time of year. Boats sail the 26 miles to Gladden Spit from Placencia (town in southern Belize) every day. It's worth having a bit of scuba experience as currents can sometimes be strong and swimming along with these massive creatures can be tiring. Make sure to check the full moon times to ensure you do not miss diving in Belize with whale sharks.
Swim with whale sharks in Belize
Monthly full moon cycles attract the biggest fish in the sea
Great opportunity for divers and snorkelers
What you will see:
The Gladden Spit is a spawning site for many kinds of tropical fish including cubera, mutton, and dog snappers, which create massive clouds of spawn every full moon. Whale sharks love eating snappers, and therefore come to this part of the coast for easy pickings during periods of mating. Whale sharks are spectacular ovoviviparous fish (lay and hatch eggs in the body) growing to lengths of 60 feet, with incredibly thick back skin, and fantastic spotted camouflage in deep water. Very little is known about these gentle giants with regards to mating and breeding habits, with all the knowledge in the world based off of one pregnant female who was caught off the coast of Taiwan in 1996.
Spanish Bay Wall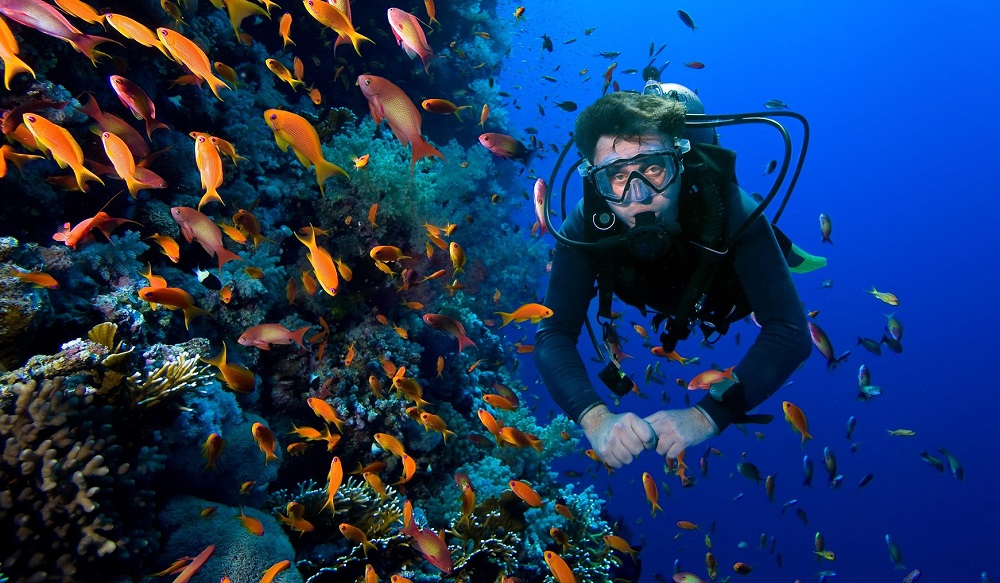 With a maximum depth of 70ft / 21m Spanish Bay offers a shallow reef dive perfect for when the weather creates challenging conditions at other sites. Spanish Bay is one the best dives in Belize because it is protected from the open ocean and wind by the Turneffe Islands. This dive site is a favorite for locals as it provides the chance to swim amongst a variety of soft corals, in addition to the hard brain coral and elkhorn corals.
Enjoyable shallow dive
Protected from currents and bad weather conditions
Frequented by dolphins and sharks
What you will see:
At Spanish Bay, one can swim amongst diverse coral with the loggerhead and hawksbill turtles as they scavenge the area for food. There is also a large number of grouper species in the area, including the rock hind and yellowfin grouper. It's not uncommon to see hammerhead sharks as well as pods of Atlantic bottlenose dolphins frequenting the dive site.
Esmeralda Canyons
Just a 30 minute boat ride from San Pedro is the Esmeralda Canyons dive site. The main attraction here is the coral canyons that divers can swim between and through. This site provides a multi-level dive experience where moray eels hide in the canyons' crevices amongst the gorgonians and anemones.
Coral Canyons with swim-throughs
Multi-level diving experience
What you will see:
As this is a very picturesque dive you should be sure to bring your dive camera. This site is home to lots of different parrotfish, butterflyfish, and damselfish that protect their territories by chasing each other around. You can see many Caribbean reef fish, black groupers, eels and nurse sharks.
Long Caye Aquarium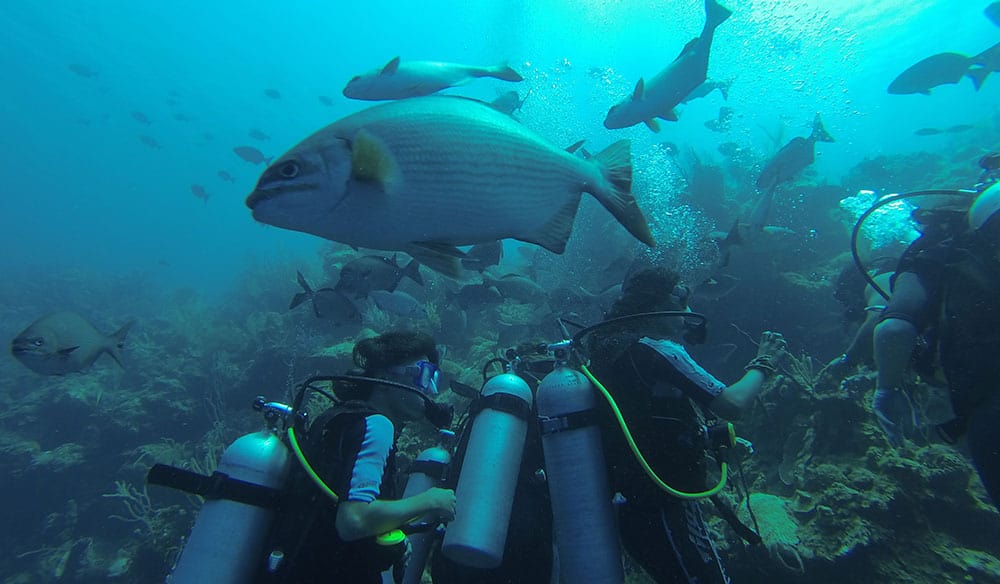 After diving the Blue Hole and the reef wall at Half Moon Caye, there is one more stop before calling it a day. This stop is the lesser-known Aquarium dive at Long Caye that is often the highlight of the trip for many. The reef here has a tabletop formation composed of soft corals. Further into the dive there is a drop-off that leads towards hard corals.
Large population of tiger groupers
Tabletop reef with many different types of corals
A 90-degree mega drop-off
What you will see:
At the Aquarium there are fewer large marine species. Instead, what you will experience is a collection of smaller marine species coexisting in symbiosis. With cleaning stations of tiny shrimp and gobi's helping to clean the slightly larger fish. This dive site is also home to tiger groupers that swim between the hard and soft corals. Barracuda, hogfish and black durgeon are all staple species that can be seen at Long Caye Aquarium.